#OpenBook – If you didn't have to sleep, what would you do with the extra time?
Sleep is a beautiful thing with a ton of benefits, including:
May Help Prevent Cancer. …
Reduces Stress. …
Reduces Inflammation. …
Makes You More Alert. …
Improves Your Memory. …
May Help You Lose Weight. …
Napping Makes You "Smarter" …
May Reduce Your Risk of Depression…
Helps Body Repair Itself… [source: VeryWellHealth]
Yeah, yeah. I know. The question's premise is that sleep is not necessary. That's the thing, though. I need to sleep. It's one of the best things in life that I get to do.
I haven't been able to sleep for more than four hours since my oldest child was born. My babies snatched my sleep from me, and it looks like a solid six hours will never return. So, I have had to adjust my sleep to be able to still partake in and enjoy it. I started napping in the afternoon to make up for lost sleep. I hit my bedchamber [yup, I'm going archaic] and dare anybody to interrupt my daytime snooze.
Let someone wake me if they want to, and they will get some claws.
Papa Bear has trained the cubs to close the door and walk around quietly when Mama is asleep lest there be some serious hell to pay. I will dole out swift justice to any offenders breaching my fortress of sleep. Mess around and end up like Robb Stark.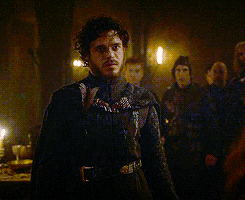 Not really—but, hopefully, the gist is gotten.
I treasure my ZZZs. They allow me to escape my world's pressures in a way nothing else can. I have a TON of shi…stuff happening in my life and a list of daily demands that I rarely get to complete as well as a line of kids, family, and friends with needs to be met.
I also have a whirlpool of thoughts and ideas swirling through my head every waking hour. Characters and plots abound as I traverse through my day, even when I'm not at the keyboard or even when I'm writing about something else. For example, ss I write this post, Marcus and Toni from my soon-to-be-released book Sweet Love Bitter Fruit traipse through my mind. A little scatter-brained, but it works for me.
I do more than enough stuff. I don't need to pack my day with more. Getting some shuteye lets me shut everything out and relax, which is the one thing I don't do enough.
If I had to give up any precious moments of sleep, then I would probably reserve that time to do something as close to it as possible like meditating or listening to some relaxation sounds like these:
Ironically, I usually fall asleep with stuff like this pumping into my ears. So—objective defeated.
I guess sleep will have to be pried out of my cold, dead hands. Then again, death is the "Big Sleep," so I still get to do it—forever.
I don't want to even imagine switching out snoozing for anything else. It is as important to me as writing. Yes, I love sleeping and writing. Write…sleep…write…sleep. Oh, yeah!
Now, let me go take my afternoon nap.
---
---
You are invited to the Inlinkz link party!