#openbook
What is the most difficult part of your artistic process?
I have spent many years connecting with all types of creatives, including authors, visual artists (painters, photographers, etc.) and graphic artists.  My work at NbA Muslims made it possible for me to interview creatives, and one thing I continually gleaned from those discussions is that the artistic process tends to be individual.
Although two creatives may encounter similar challenges, they most likely do not have the exact same experiences. So, it is always a good idea for them to share their perspectives, hoping that everyone will be enriched by doing so.
I've been a writer for a long time and ventured into authoring fiction a couple of years ago. I have written poetry, prose, journal articles, peer-review academic essays, thought pieces, and creative nonfiction. Each type of writing presented distinct challenges and required specialized writing skillsets to effectively satisfy reader expectation and codes and conventions.  I went into each project like a champ, writing and revising like I was The One
As I learned what was necessary to execute each kind of written work, one bane to my existence as a writer constantly presented itself—Editing.
For clarity, there are 4 main levels of editing: developmental, content, line, and copy (no, proofreading is not editing), and a writer's work benefits from all of them. Let's take a quick look at the types of editing, described below.
Developmental –  Developmental editors help an author complete or expand a story.
Content – Content editors look for overarching issues like plot, pacing, tension, characterization, and ways to improve a finished story.
Line – Line editors concentrate on each sentence, looking at things like wording, redundancy, pacing, and cadence.
Copy – Copyeditors focus on grammar and punctuation. (resource: http://writetypeeditorial.com/editorial-services/)
Yes. That last one is my bane. Mother flippin' copy edits. I just wanna—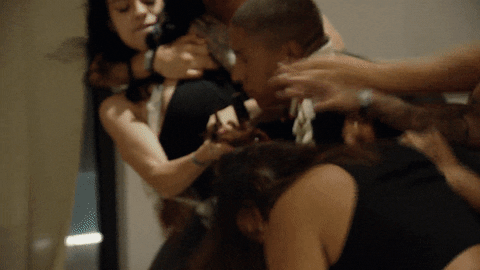 I admit to being a typo queen. While in college, I usually got positive feedback from an instructor about a paper's thesis and elaboration, but they also commented on minor errors. Typos rarely kept me from getting an A, but it annoyed me to no end that my fire was dampened by them.
The editors on the online platforms (About Islam, Haute Hijab, etc.) I have and continue to write for help catch those annoying copy issues, but for my blog, Layla Writes Love and NbA Muslims, I am on my own.  I spend hours combing through copy and have at least one mistake every time. At least one typo in an article is common. The New York Times has a regular quiz using errors in their publication, so a clean copy remains allusive for even larger publications.
I am also left flaying out there with my fictional works. The longer the story, the higher the potential for copy issues. Seeing minor errors in a writing project becomes more difficult. A quick and easy answer would be to higher a copyeditor, someone with an eye to catch those little suckers, but that's not so easy.
Finding an editor with the skills and time to do quality edits is hard. I still cringe at the reviews for my first novel mentioning the need for editing.  Efficient editors are also expensive, making it necessary to set aside a large portion of one's publishing budget for them. It is damn scary to fork over a chunk of change for someone to clean up your book and infuriating when there are still enough issues for readers to notice. Well, outside the inevitable grammar Nazis.
Searching for a copyeditor (or any other kind of editor) can be time-consuming but worth it.  Check out an editor's website for their qualifications, experience, and testimonials. Ask them about their process and send them a few chapters to sample edit.
The interviews, work samples and wondering how I'm supposed to know if an editor missed anything if I missed it in the first place make my head spin. I have a new copyeditor for Sweet Love, Biter Fruit, book two in the Brothers in Law series and am hopeful that it will be as clean as possible. If so, I'm going to hold onto my editor for dear life, because this is hard.
---
---