#OpenBlogHop
In this week's Open Blog Hop, writers are asked to describe their favorite piece of furniture and any story there might be behind it.
My favorite piece of furniture isn't because I enjoy it but because the man that I love and share my life with does. I affectionately call him Papa Bear on social media because he prefers that I don't use his full name. I also like it.
I'm blessed with 27 years of marriage to a man that works damned hard for his family's security. Like most people today, Papa Bear has multiple jobs. Add his communal obligations as an Imam (Muslim spiritual leader) and there are very few hours left in the day for him to just be.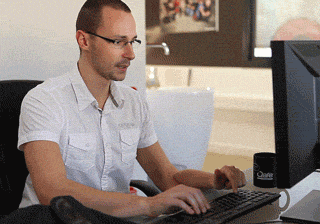 On those rare occasions that he does get to chill, he grabs a cup of tea and heads to the front porch—weather permitting.
When we were house hunting, the white porch spanning the front of the house we would eventually call home was a major selling point for Papa Bear. He walked back and forth over the wood planks with a smile and said, "I like this." After we moved in, one of the first things I purchased was a set of chairs and put them on the porch. When Papa Bear returned home from work, he sat in a chair and reclined with a satisfied grin. The rest is history.

The children and I  intuitively know that if it's warm enough, to look on the front porch for dad when he's home.
It's where he offers sage advice, witty discussions and comic relief from the harsh day. He plays with the little ones and banters with or talks about life choices with our teens and new adults.
I know how happy sitting on the porch makes him and enjoy a side of my husband that the limited 24-hour day doesn't always allow. Things are at ease and the atmosphere is spiritually-refreshing.
So, Papa Bear's front porch chair is by far my favorite piece of furniture because it offers him a chance to decompress and enjoy his home and family, which does my heart good.
[inlinkz_linkup id=791364 mode=1]
---